Editor-in-Chief: Valerie Tsai
Hello! I'm Valerie, and I'm currently a senior double majoring in Neuroscience and Molecular, Cellular, and Developmental Biology considering a minor in English. I've been fortunate enough to experience working in several neuroscience research labs, but the research I'm currently pursuing with the Golden Lab to uncover the neurobiology of addiction, aggression, and other complex social behaviors is closest to my own passion and the reason I initially fell in love with neuroscience: neuroethology, or the study of the circuits in our brain that drive the way we behave or interact with the world around us.
I've always been fascinated by stories— if I'm ever outside of the lab, you can find me reading, writing, or out-and-about at a cafe, bookstore, or library, people-watching— and it's my personal philosophy that understanding other people and through them, understanding ourselves and the way we see the world around us, starts with learning their story and listening to them tell it. I believe that science, at its core, like all things, is about telling stories, and learning more about who we are, as a collective species, through the sharing of knowledge and the use of our understanding of the experiences and discoveries of others to shape and inform our own.
Why I joined Grey Matters:
I believe neuroscience, and how it aims to explain how our minds work, and how our thoughts, emotions and behaviors are formed on a physiological level, is positioned like no other discipline to give us insight into what makes each of us the individual we are, why we carry the stories we do and how we choose to tell them. The potential of the field spans disciplines and progress in neuroscience, in my opinion, necessitates the perspectives of as many different people with different experiences as possible to ensure that discoveries are made by and for everyone, regardless of field, background, experience, or otherwise.
Grey Matters, with its mission of making neuroscience research accessible, engaging, and relatable to the general public, aligns with those beliefs. Not only does being a part of it allow me to develop my ability to read, analyze, and write about exciting, innovative research, I've had the privilege of meeting, working with, and learning from my peers, who each bring their own knowledge, experience, and ideas to the table so that the journal can continue to improve day by day. In my final year at UW, I'm excited to oversee our expansion into multimedia educational content in the form of YouTube videos, podcasts, TikToks, and more, and I hope that anyone and everyone interested in but intimidated by neuroscience can find a more comfortable niche to start in here, either by engaging with any of our content, or by joining Grey Matters to help create it! :)
Senior Editor: Chloe Dahleen (she/her)
Hi everyone! My name is Chloe Dahleen and I am a junior at UW majoring in neuroscience and minoring in bioethics. My current research is in the neurodegeneration field — I'm learning about the interactions between tau and tubulin, and how tubulin may prove to have therapeutic uses in the fight against tauopathic disease. I'm especially interested in the intersection of neuroscience, the environment, and public health, and lately I've been pursuing neuroethics research with the Neuroethics Thrust at UW. To me, one of the most beautiful aspects of neuroscience is how integrative and interdisciplinary the field is — it is an endlessly fascinating amalgamation of biology, philosophy, and social science, allowing us to grapple with the human experience at its core. When I'm not attending class, working in the lab, or volunteering, you can find me reading a good book, taking long walks on campus, or baking!
Why I joined Grey Matters:
I love Grey Matters because of its unique niche as a deeply scientific journal that utilizes many other disciplines — art, English, philosophy, and more — to create a stunning product each quarter. Built by undergraduates to break down barriers of access to neuroscience, Grey Matters is more than just a publication: it is a team of dedicated students building a brighter and more diverse future for the field. Working with, and forming friendships with, these students has been the highlight of my undergraduate experience, and learning from their ideas and experiences has inspired me in myriad ways. With a mission to make STEM accessible to everyone and to help students develop key skills in art, writing, and leadership, Grey Matters is a place for any student hoping to enrich their college experience!
Head of Operations: Jay Bhateja (he/him/his)
Hi everyone! My name is Jay and I'm thrilled to be a junior pursuing a double major in Neuroscience and Computer Science at the UW! I hope to synthesize these two fields and use them to inform each other, improving technology to analyze neural data, and using neural data to inform the way we design vast informational systems like neural networks. I currently work in the Steinmetz lab on the former of these goals, and enjoy exploring vast troves of spikes. It is beyond stimulating to study the two most intelligent entities in the known world.
When I'm not drowning in STEM classes, I love to sing, dance, and write. My culture is a huge part of who I am, and also of what I do: I learn South Asian languages for fun, including Punjabi, Sanskrit, and Urdu. I sing Hindustani vocals, and have danced Kathak for 4 years. You will easily recognize me in my signature traditional kurta pajama, music in hand, singing or dancing (and sometimes both) on the way to class or lab. If you do, come say hi! :D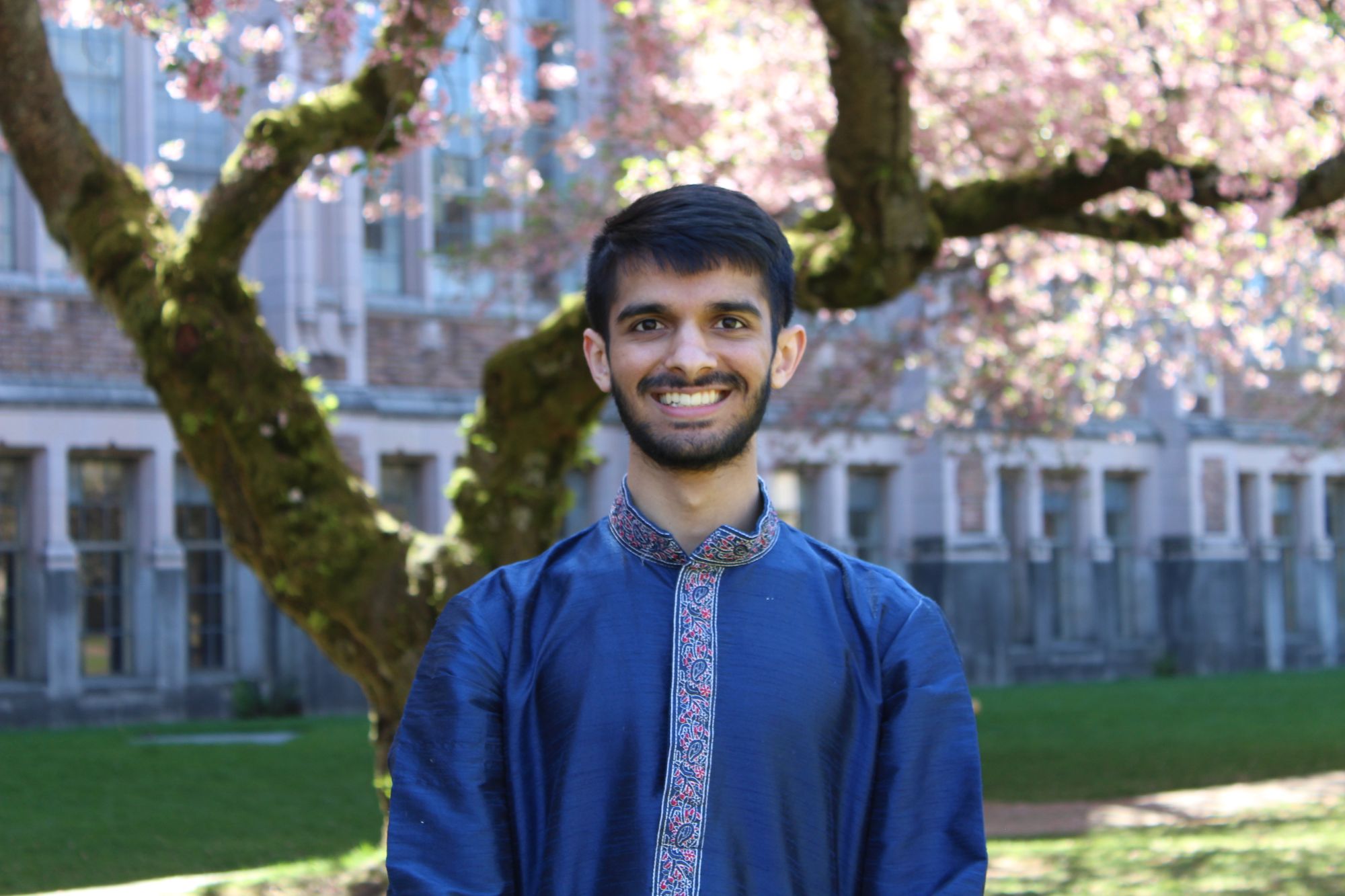 Why I joined Grey Matters:
Grey Matters is the most established neuroscience RSO on campus, and has helped me develop my skills in a wide variety of areas, from translating advanced research articles to fundraising and event planning. I cannot help but admire the amazing quality of the work that happens here, and am privileged to be a part of it. I look forward to continuing to make an impact on the UW and Seattle community by growing Grey Matters' budget, article corpus, and reach. Additionally, I am over the moon about our expansion into a YouTube channel, podcasts, diversity initiatives, and other chapters!
Editing Coordinator: Carter Bass
Hi everyone! My name is Carter, and I'm currently a junior at UW pursuing a double degree in Neuroscience and Biochemistry, as well as a minor in Anthropology!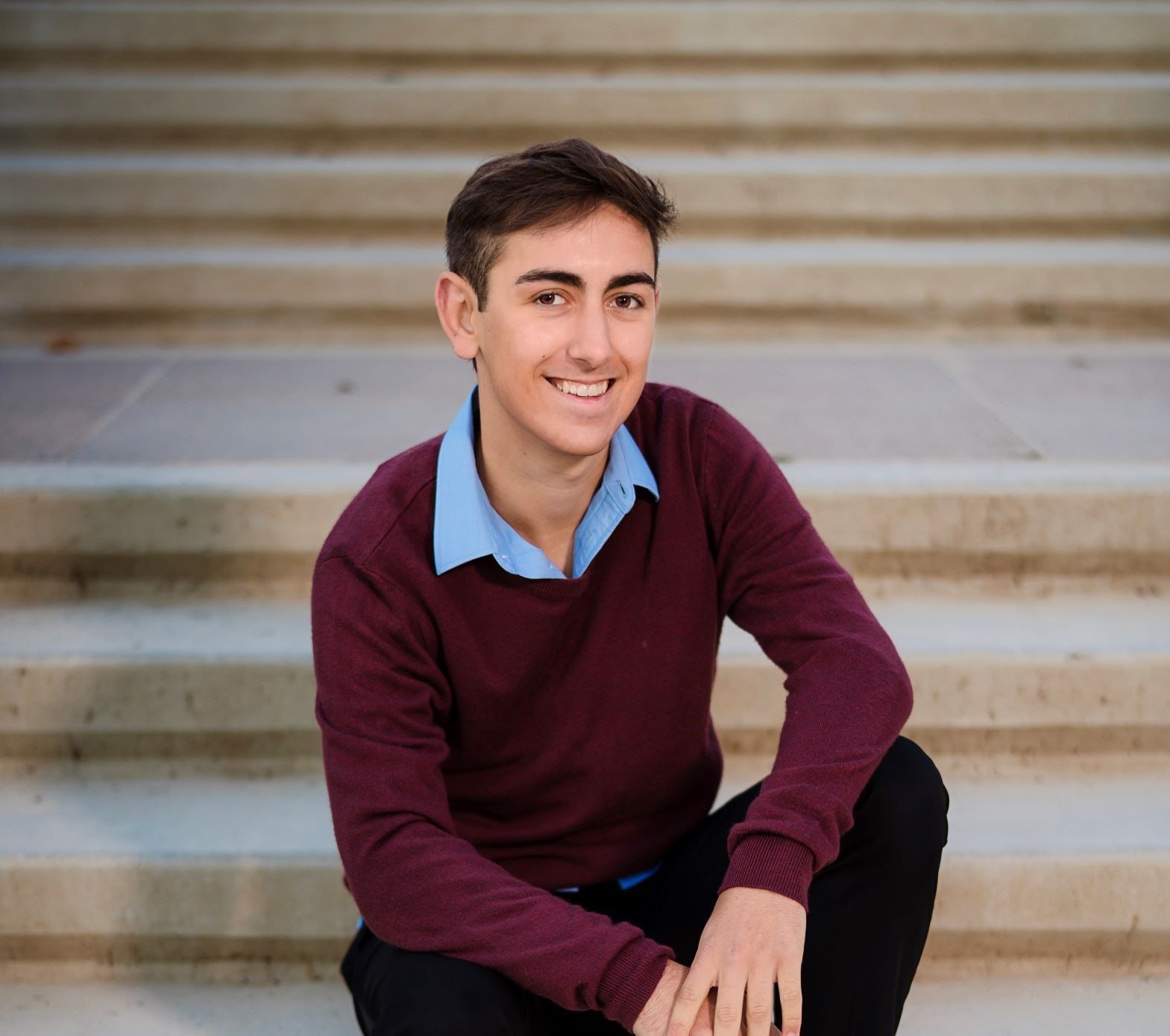 Why I joined Grey Matters:
I first became involved with Grey Matters during my first quarter at the UW as an Editor, and ever since then I've been continually impressed by the outstanding work of my leadership colleagues and the creative endeavors of our many admirable members. Grey Matters has consistently proven its ability to synthesize many different disciplines and form a cohesive and innovative scientific journal, transforming a practically arcane field of study into an open interest for thousands of readers to explore. Working with Grey Matters has been a great way for me to hone my writing skills and understanding of research methodology, and as a student interested in pursuing a career in STEM, this experience could not be more valuable. If you're interested in science and are seeking an activity worth your while, Grey Matters is the place to be!
Marketing Director: Brandon Wu
Hello! My name is Brandon and I am a sophomore majoring in public health with intended minors in data science and bioethics. My most recent interests have been in combining a neurobiological and sociocultural view to decrease drug addiction and improve mental health. However, there are many more topics I look forward to learning about, which is why I love the interdisciplinary nature between both public health and neuroscience.
Outside of class, I enjoy learning music and choreography as a second trumpet in the Husky Marching band as well as promoting global health equity in Globemed. I also enjoy going on hikes, learning to cook new things, listening to Andy Grammer, and exploring the city!
Why I joined Grey Matters:
Like many others through the last year, entering "college" as a freshman during COVID created many challenges, the greatest of which for me was finding the purpose behind my work. Knowing that I already had an interest in neuroscience, I eventually stumbled upon Grey Matters Journal. I applied as an author in fall quarter and I can say now that it was one of the best decisions I've made in college thus far. To my surprise, I was accepted and wrote about a mental condition that my friend has known as aphantasia, or the inability to mentally visualize. I was put into a production group that worked with me to create a quality article and with an artist that would translate my words into color. But most importantly, I was creating something that other people would read and learn about. This excitement not only reminded me why I study here at UW, but provided a way to create a meaningful piece of work for the public and not just for a grade. These factors together are the reason why I love Grey Matters and why I want to give back to this organization as its Marketing Manager to help other people get the opportunity to experience what I did!
Art Director: Allison Li
Hello! My name is Allison and I'm currently a junior double majoring in biochemistry and computer science. I'm interested in research in the biocomputational field, specifically in using data science to run predictive models on patient data to better medical protocols and identify any trends or barriers of access that may lead to poor clinical outcomes.
In my free time I love to do art, mainly in watercolor, acrylics, and digital art. I'm currently dabbling into creating short digital animations, and making my doodles come to life! I also love discovering new boba shops, swimming, watching true crime documentaries, and playing piano in my spare time.
Why I joined Grey Matters:
As a STEM major, Grey Matters is one of the few opportunities that allow me to practice my art and learn more about science research topics at the same time. The interdisciplinary nature of Grey Matters allows me to be involved in both STEM and the arts at the same time without having to choose between one or another. Furthermore, the diverse community of Grey Matters has allowed me to make connections with people from very different backgrounds who have the same interest in learning more about the various facets of neuroscience. There is truly a place for everyone in neuroscience, and Grey Matters has fostered a welcoming environment for everyone to learn more about neuroscience regardless of their background!
Art Officer: Olivia D'Costa (she/her)
Hi! My name is Olivia and I'm a junior majoring in Medical Laboratory Science. I'm fascinated by the intricacies and complexities of the human body and love learning about the biological bases of how we think, act, and feel. I am particularly interested in learning about the intersection between the immune and nervous systems and how changes to one can impact the other. In my free time, you can catch me taking long walks through campus, listening to true crime podcasts, reading a good book, baking, or working on my latest art project :)
Why I joined Grey Matters:
I was drawn to Grey Matters because of its mission to make neuroscience accessible to the public. Over the past two years, I have had the opportunity to work with several incredible production groups to carry out the mission of Grey Matters through editing and illustrating articles. However, my contribution has been small compared to how much Grey Matters has given back to me. Through Grey Matters, I have developed my skills in communication and teamwork while continuing to expand my artistry and creativity. I am so excited to continue working with Grey Matters and I am ecstatic to see what we can accomplish this year!
Design Director: Carolina Gokingco
Hello! I'm Carolina (class of 2023), currently majoring in physiology at the UW. I'm part of a lab with a focus on the genetics of aging, so Grey Matters often covers the intersections of the two, be it through the discussion of neurodegenerative disorders, circadian rhythms, and more. Outside the lab or classroom, I spend a decent amount of time in the bouldering gym, at the pool, or at a table with some friends playing Settlers of Catan or Bananagrams.
Why I joined Grey Matters:
I joined Grey Matters after seeing the physical journal at the RSO fair—the quality of the articles' art and writing was amazing! They were incredibly beautiful, and I was pretty much sold after seeing a stereotypically daunting subject like neuroscience appear so artful and compelling. Additionally, I love Grey Matters' mission of making neuroscience more engaging and accessible to a wider audience, so it's been incredibly rewarding to learn how layout design can further that mission by bridging the science and art together.
Production Manager: Ian Guan
Hi! My name is Ian and I'm currently a junior studying molecular biology and English writing. My interests within this field largely pertain to pharmaceuticals and how our medicines interact with our brain to contribute to issues like addiction and neurological change. I am also really big on science communication and education, as I love spreading new concepts to new audiences and learning how others learn by writing and speaking.
When I'm not writing, speaking, or editing, I enjoy volunteering with local youth groups, going on food crawls in the city, and going all-in on the poker table.
Why I joined Grey Matters:
I've always valued simplicity in teaching the most cutting-edge and new topics within a field. Neuroscience is an emerging field rife with new findings that have large impacts on our daily lives, but so much of these findings are poorly disseminated. Many research articles are locked behind paywalls, and when you do get through the paywalls, they are filled with so much technical jargon that makes you rethink your decision of paying to learn about these findings. Grey Matters offers an opportunity to learn and, most importantly, create our own articles that combine the complexity of cutting-edge research with the simplicity of communication to a wide audience. The article production team consisting of UW undergraduates, leadership members, and mentors provide a space that ensures scientific accuracy without sacrificing accessibility.
Production Manager: Jane Chea
Hi everyone, I'm Jane! I'm currently a junior and majoring in Molecular, Cell, and Developmental Biology at the UW. I'm really interested in how the regulation of our genes play an integral role in basically every process in our bodies and how our different molecular systems interact to allow us to function normally in our day-to-day lives. In my spare time, I've been enjoying painting, watching TV shows on Netflix, playing games, and chatting with friends!
Why I joined Grey Matters:
Reading about existing and upcoming scientific research and writing are two things that I love! When I saw that Grey Matters had a scientific journal published every quarter, I thought that it would be a great opportunity for me to take part in both of my interests. After joining, I've been able to do just that and met inspiring individuals that have a passion for neuroscience and for writing. Their experience has taught me so much about how to make science more accessible and engaging in ways that I had not learned before. Furthermore, being able to be at the forefront of producing a journal filled with creative topics, compelling writing, and breathtaking art are now some of the few things that I love about Grey Matters. Being able to learn about so many new things in neuroscience, biology, and psychology is what has inspired me to keep exploring and diving into my interests. I hope that Grey Matters can serve as a way for other people to connect with others who share the same interests as them and to cultivate their passions too!
Social Media Director: Sophia Mar
Hi everyone, my name is Sophia Mar and I am a current junior at UW pursuing a degree in Biochemistry. I am especially interested in research related to the neuroscience of pain and addiction.  In my spare time I love to bake sourdough, watch silent vlogs, and spend time with loved ones.
Why I joined Grey Matters:
Science, and especially neuroscience, is so cool yet seemed so out of reach to me for a long time.  Attending An Evening With Neuroscience in my freshman year inspired me to explore my interest in neuroscience, which I had previously been hesitant to pursue.  I love Grey Matters' mission to bridge the gap between neuroscience and the general public, as this had a strong influence on my own educational experience.  The journal truly highlights the beauty of modern neuroscience, displaying it in a more accessible format.  I am honored to play a role in showcasing this to the public.
Content Manager: Hannah Han
Hallo~ My name is Hannah and I am currently a junior pursuing neuroscience! I am most interested in computational development of pharmaceutical applications to neurological problems. In pursuit of a future career in research, I am excited to be working at Baker Lab. My current projects include the development of synthetic protein binders in an effort to create therapeutic solutions for Alzheimer's and drug transport via the blood brain barrier. I love seeing the research come full circle beginning with an idea and ultimately resulting in a tangible medical application.
When I'm not pipetting away, I love to vlog, create art, and look for the best snacky snacks :) Exploring my creative side is very important to me so I really value running my YouTube as well as my small business.
Why I joined Grey Matters:
Grey Matters provides an avenue for students to immerse themselves into the scientific community through so many different avenues! It's multidisciplinary nature allows students to explore neuroscience and other topics they are interested in ways that they are comfortable with. As a student who loves all things science and design, I am excited to be a part of the team in creating a wider platform to help make neuro more accessible! Keep an eye out for all the new content Grey Matters has to present and be sure to join the RSO to stay connected!
Social Media Officer: Dania Ahmed
Hello! My name is Dania and I'm a freshman at UW intending to major in Neuroscience. My favorite thing about science, and Neuroscience in particular, is playing the 'why' game. Why do people make the decisions they do? Why are people motivated to accomplish their goals? Why are people so distinct yet so similar? I've always thought of Neuroscience as a form of storytelling, and unraveling the answers to questions like these is a large part of uncovering the narrative of the human experience. Stories are powerful frameworks, and I'm intrigued by how they allow us to form connections with others. I hope that throughout my time at UW, I'll be able to find a place for myself within this narrative by working alongside my peers to demystify the unknowns of the brain.
Why I joined Grey Matters:
Despite how powerful storytelling can be, there are so many ideas that are either never told or never listened to. In the world of science, this is usually due to the gatekeeping of knowledge to the general public. Grey Matter's commitment to fostering scientific curiosity by breaking down barriers of access is something academia needs more of, and I'm thrilled to be part of this mission. Social media in particular has the power to diversify the process of informing the public through visual, aural, linguistic, and spatial modes. In the same way I admire Grey Matters for building bridges across educational backgrounds, I hope to build bridges between the worlds of scientific literature and social media to share as many stories, ideas, and information as possible!
Finance Officer: Rishabh Chowhan
Hey y'all! My name is Rishabh Chowhan, and I'm a second-year at UW intending to double major in MCD Biology and Neuroscience. I am especially interested in research related to neurodegenerative diseases and neurosurgery, and I plan on going to medical school to hopefully become a neurosurgeon one day! In my spare time, I watch anime, build legos, skate (not very well), listen to music, and draw!
I'm from the Bay Area in California, and it's my first year on campus! I'm still exploring Seattle and trying to meet as many people as possible, so if you're ever bored or want to explore parts of Seattle definitely reach out! I'm super psyched to finally be in-person, and I'm looking forward to meeting everyone soon! Have an amazing year, and say hi if you see me on campus!
Why I joined Grey Matters:
I've always been passionate about science and although I've been especially interested in neuroscience, the field seemed particularly intimidating to me. I felt this even more so at UW, so I was looking for a community where I could comfortably learn more about neuroscience, engage with others who are equally passionate about the field and feel less of the cutthroat pressure and more support. Grey Matters checked off all those boxes for me because of how this group of passionate individuals facilitates a beautiful STEM/Humanities intersection, weaving together science, art, and writing, all to make neuroscience more accessible!
Diversity Director: Khushi Yadav (she/her)
Hi! My name is Khushi Yadav and I am a freshman at UW planning to major in Neuroscience and Biochemistry. My favorite thing about neuroscience is disease and disorder development (aka basically just anything regarding neurodegeneration and mental illness). I currently work in the Bruchas lab studying the effects of THC in the brain via oral consumption in mice, and have researched Alzheimer's disease causation and progression in the past. In my spare time, I love to sing and write music, creep myself out by binge watching horror movies, and create an infinite number of schedules and to-do lists to organize my life.
Why I joined Grey Matters:
Ever since I was in elementary school, my favorite two subjects have been science and english, and when I first heard about this club, I was ready to burst with excitement. And while getting to write and read about neuroscience is super cool, what makes Grey Matters unique (and why I love it so much) is that there's a supportive community here. From discord messages in the middle of the night recommending which classes to take, to being able to hop on a meeting with someone and navigate through work together- everyone is always eager to help. And that energy is carried on to the rest of the community, with Grey Matters always being the first to point out its flaws and constantly taking steps to increase accessibility and understanding for every potential audience member.
Store Co-Manager: Virginia Wang
Hiya! My name is Virginia and I am a current freshman at UW planning to major in bioengineering! I hope to get into neural engineering to learn how to manipulate the behavior of the body's nervous system. There are many fields I want to explore, such as neuroprosthetics - recognizing electrical impulses from the brain to create movement with a bionic arm or rewiring the brain to recover lost function from strokes. In my free time, I love to listen to true crime podcasts, watch TV shows (Bojack and The Haunting of Hill House are my favorite), and cook :)
Why I joined Grey Matters:
I first worked with Grey Matters during my senior year of high school, where my shop (The Omi Shop on Etsy) collaborated with the club to create merchandise! I have always loved the intersection between the arts and science, and Grey Matters combines the two in a way that resonates with my interests. Grey Matters is truly an amazing RSO at the UW. It's ability to inspire, teach, and collaborate are unparalleled.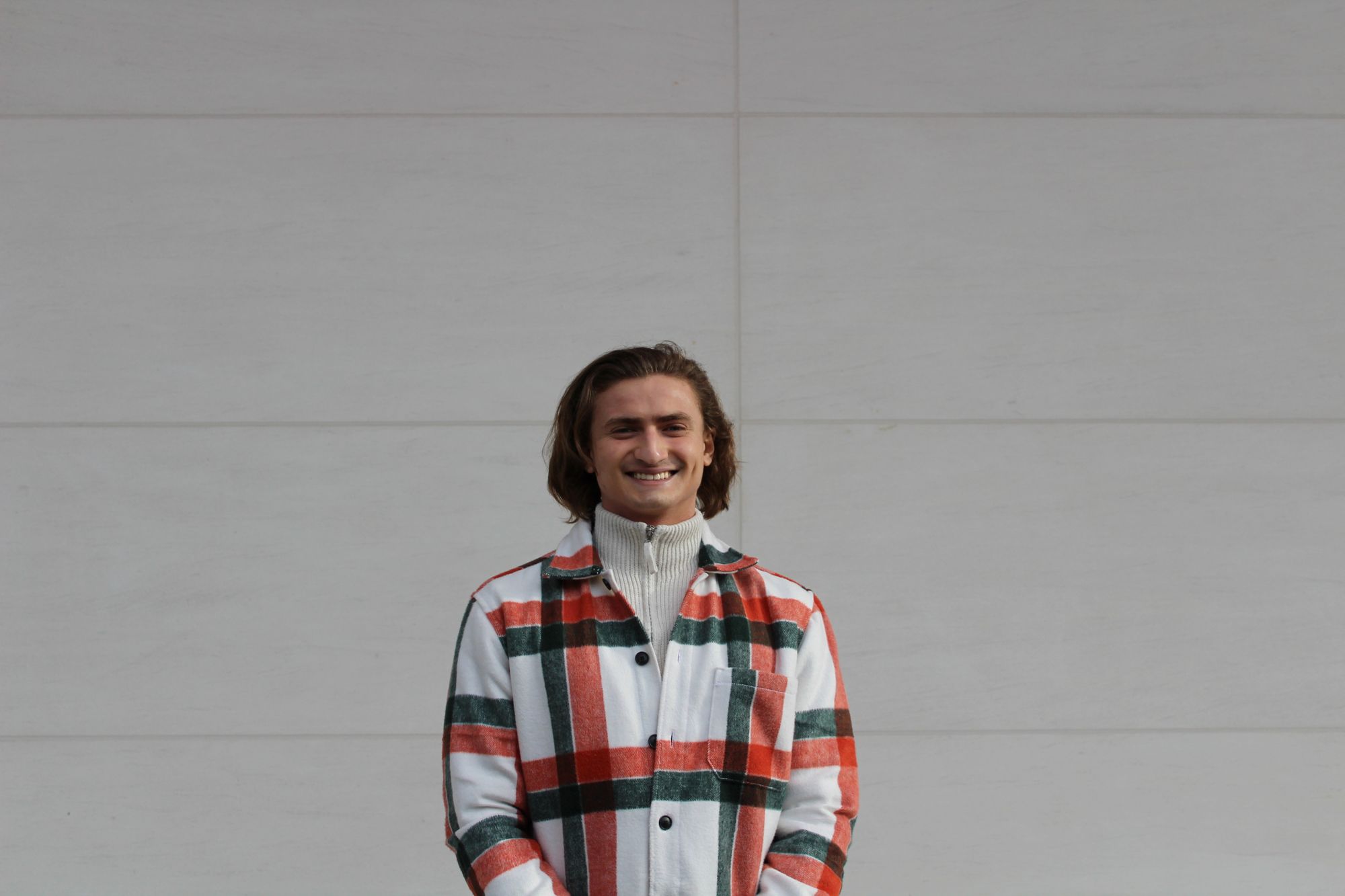 Store Co-Manager: Francisco Miralles
My name is Francisco Miralles and I am a Senior majoring in Molecular, Cellular, Developmental Biology. My dream is to change the American (and hopefully global) healthcare system to treat patients of all types using a bottom-up approach opposite to the current way we approach patient health, to enable patients to heal from diseases instead of simply ameliorating symptoms. In my spare time, I love to exercise, meditate, watch Hunter x Hunter, have great conversations, and write a variety of things––though I tend to trend toward writing about morality and psychology. Never be afraid to say hi!
Why I joined Grey Matters:
I was drawn to Grey Matters my first quarter on campus because of my interest in writing and my fascination with neuroscience. Grey Matters, in its essence, was the embodiment of the two sides of me that I felt split between: the artist and the scientist. I began to write for GM that Fall and joined the leadership later that Spring as store manager. However, as I leaned more heavily into my artistic side, I decided to leave the leadership. In my time apart from Grey Matters I learned a lot about myself and who I was, eventually realizing that in reality we are all both artists and scientists. Not a person exists that does not express themselves and ask questions. So, though time has passed since then, I felt the need to come back to the club that embodies that philosophy, and spurred me to begin that process of self-exploration. That is why I love Grey Matters!
Website Manager: Arnav Khera (he/him)
Hey Peeps, I'm a third-year peep studying neuroscience and ACMS (a pretentious way of saying data science), and I've been an editor at GM since last winter quarter and now an author. I am also the website manager so let me know if you have any ideas for design changes to make our website more awesome than it already is!
Other than GM, I'm involved with the Neurobiology Club, the other neuroscience RSO on campus. On the research front, I'm involved with a project that is looking at the progression of Parkinson's in Drosophila and human stem cell models, and a second project with C. elegans worms where we're looking at the pathway that is responsible for the development of rhythmic behaviors like crawling and swimming. In my free time, I love to eat, cook, hike, read, and hang out with people. Super excited to meet all the new people who're joining us this quarter, and please feel free to reach out with anything you'd wanna know, or would like help with!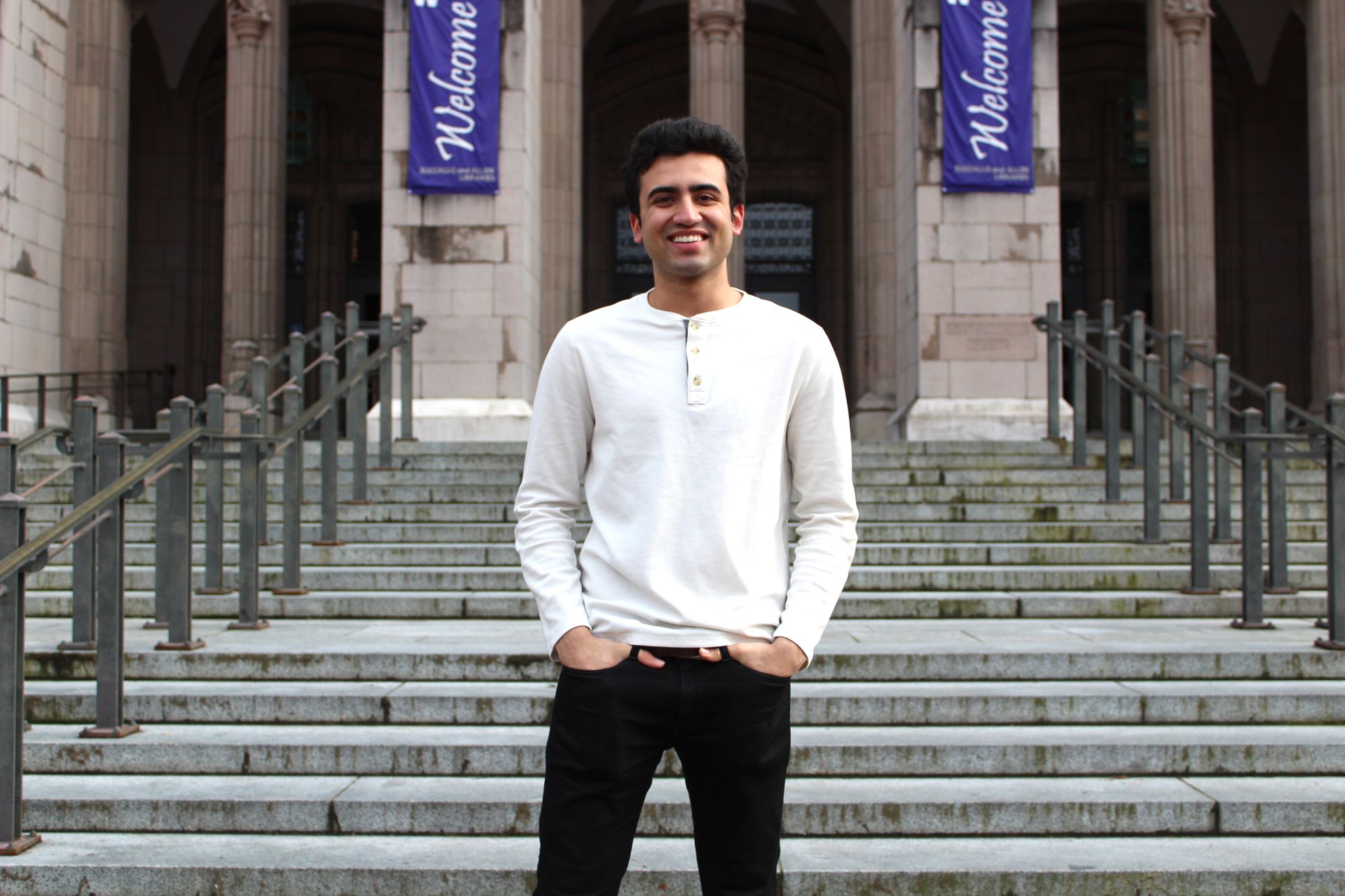 Why I joined Grey Matters:
I don't know.